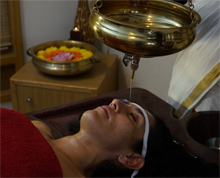 Shirodhara, almost synonymous with Ayurveda, is the first picture that comes to mind when speaking about Ayurveda. Shirodhara is the treatment in which a medicated oil or decoction is continuously poured over the forehead in a rhythmic manner for a certain time period. Proper care is taken to maintain the temperature of the oil throughout the treatment. Shirodhara properly performed has the following benefits.
It's the ultimate mental and relaxation therapy
Beneficial in correcting many conditions affecting head, sense organs.
Its also useful in conditions like – insomnia, schizophrenia, migraine, etc.
Useful in premature graying, hair loss, cracking of the hair and dryness of
the scalp (dandruff)
Beneficial in epilepsy if used in conjunction with suitable medications.
Protects the sense organs and sharpens the senses.
Relieves stress and improves memory and other functions of brain.
Useful in rejuvenation and improves the overall sense well-being.